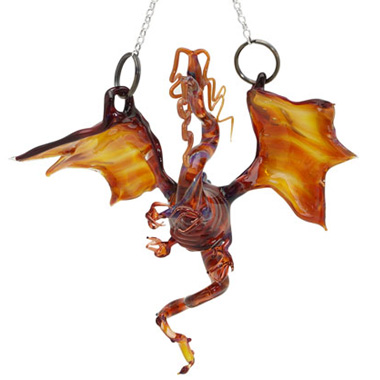 The dragon will be made in components in coloured borosilicate with the use of powders and contemporised filligrana techniques to give this mythical creature the necessary depth and character. The Dragon wings are made from encased tubing, blown, cut and shaped. The wings will be joined from cold – i.e. warming up using a process of differing annealing flames to gently heat the wings to appropriate working temperature – once the solid body of dragon is created. The body will encompass claws, dragon tendrils, scales, eyes and other impressive features.
Julie Denton is a dynamic and highly experienced teacher with a lot to share. The presented techniques include the use of tubing, pulling points, dragon eye murrine, colour application, heat/glass control, glass rules, phases of annealing flames from cold to hot and vice versa, how to combat cracking and how to fix cracks once the have occurred.
At the end of the class, Julie will give a brief demo on how to pack delicate flameworked pieces for a safe transport by parcel post.
Prerequisite: Flameworking or beadmaking skills
Past Courses
Flameworking – Dragons – Julie-Ann Denton – 27. – 29. March 2014